Look Burglars, Almost no Wires!
Despite the fact that there is now very little difference between wired and wireless alarm systems in terms of functionality and efficiency, there are some areas where the wireless alarm system becomes peer to the wired alarm system. At SeriousCCTV, after many years of involvement in the security game, we have noticed that because the wireless alarm system does not need any wiring, its whereabouts in the house becomes dramatically hidden and this puts burglars right off. They dread being spotted and not knowing that they can be without knowing will be more frustrating for them.
Wireless Alarm Pack 1 (Semi Wireless) – Suitable for Double or Triple Storey Homes with no existing wiring/ cabling in place – $1210 Fully Installed incl GST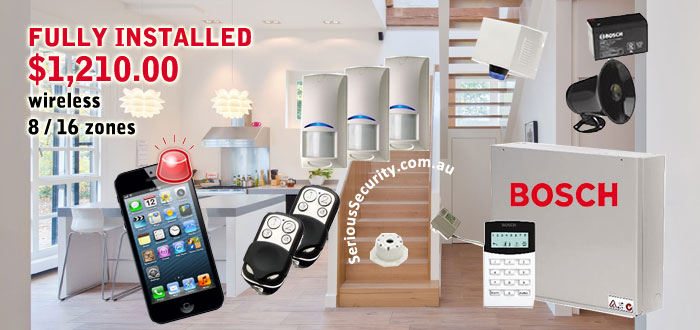 Suitable For: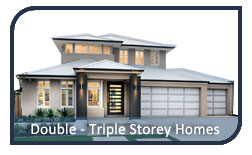 Package Snapshot:
Bosch "Wireless" ULTIMA 880 ( 8 ) Alarm panel with tamper switch
2x Bosch Wireless movement detectors
1x Bosch Hardwired movement detector
2x Bosch remote controls
1x Bosch LCD keypad
1x External classic or Slimline siren with blue strobe
1x Internal siren
Power pack & backup battery
24 Months WARRANTY on all parts, Lifetime Workmanship Warranty
Available Extras:
| Add On | Extra Options | Add On | Extra Options |
| --- | --- | --- | --- |
| + 60 | For each additional remote needed | + 88 | Alarm connection to phone line for mobile alert |
| + 176 | For each wireless reed switches (for doors / windows) | + 165 | Wired Panic Alarm (great for bedrooms) |
| + 198 | For each additional wireless PIR sensor |  $30 p/m | Back to base alarm monitoring |
| + 45 | For each upgrade to a pet sensor | + 220 | GSM Dialler (calls you via sim card) |
You simply take it with you when relocating
Another advantage that a wireless alarm system has over a wired system is when you decide to relocate to another living space. The first obstacle is the additional cost of detaching a wired alarm system. You will definitely need the help of a professional which will cost you something. There is also the possibility of damages during the work which again may entail other costs. Once extracted from the first home, it needs to be installed in the second, again attracting further costs. With a wireless system, you simply take it off the wall and install it at your new home at no cost to you.
An expensive system shouldn't deter
It is well known that the components of a wireless alarm system are more expensive than those for a wired system. This is understandable since the former has more technically advanced parts than the latter but costs shouldn't dictate which system you should procure. Despite the higher cost, a wireless system can be installed by our experts in a shorter time and less hassle and bother is involved when installing the wireless alarm system. One the other hand, the maintenance cost of a wireless system is higher than those for a wired alarm system.
 Upgrading a wireless system is much easier
There is no doubt that during time, the need for change either to the interior layout of your home or for the upgrading of your alarm system will crop up and you need to act for fulfil you intention.  If you need to renovate your house and have a wireless alarm system installed, all you need to do is simply detach the components of your system to a convenient spot and then re-install them once the work is completed. Moving furniture or simply upgrading your wireless alarm system won't be a problem either. In short, it would be easier doing these changes with a wireless system installed in your house.
Contact us
We are experts at installing a wireless alarm system and if you fancy having the system installed in your house, ring us now on (02) 8091 1989 for a free quote and have the system installed now!